Explore the Okavango
Delta on a Boat Safari
Inner Delta Boating Safaris are the true way of experiencing the Okavango Delta. These Safaris are available only when water levels permit boating.
Seasonally June to October.
On a boating safari, you'll glide along the winding waterways of the delta in a motorized boat, taking in the incredible sights and sounds of this unique ecosystem. You'll witness the majesty of elephants as they bathe and drink from the water, marvel at the incredible diversity of birdlife, and spot elusive predators such as lions and leopards as they roam through the savannah.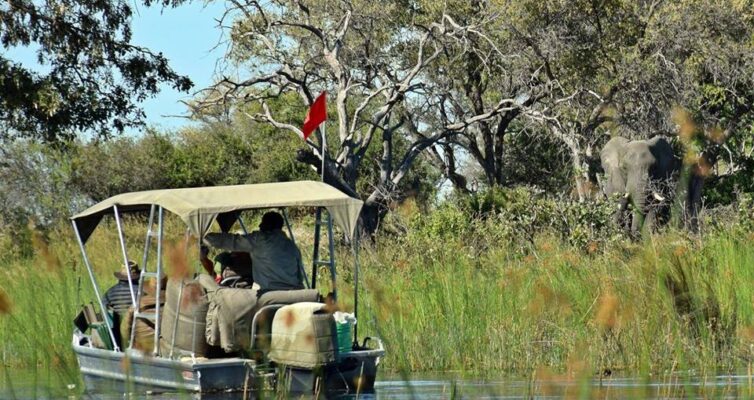 Your Okavango Boating Safari
We can pick up from your place of accommodation in the Maun between 6:30am and 7am (depending on where you are staying). If you are staying out of town please organise your transport with your place of accommodation. We then transfer to "The Old Bridge" where we will serve a light breakfast of cereal, yoghurt, toast, coffee and tea from 7am. We then send you out on your boat by 8am for a full day of viewing game, birds and some of Botswana's most breath-taking scenery.
This mesmerising adventure up winding Okavango channels will be interspersed with pauses for your viewing pleasure. You may also stop several times on your way for leg stretches and breaks. This trip is a classic example of the "journey being the destination", the object is not to get anywhere in particular but to spend time in the Okavango delta.
Around midday we will reach the turning point near Chiefs Island where your guide will take you for a 1 hour game walk.
Once back at the boat landing your guide will set up a picnic lunch with table and chairs. After lunch you may rest in a shady, beautiful setting to soak up the peace and serenity of the Okavango delta. You then depart for the downstream return trip at around 2pm, arriving at The Old Bridge before 6pm. Where possible, depending on water levels you may use a different combination of channels on your way back.
Once back in Maun we will transport you to where you are staying that night in Maun.
P3150.00 p.p. minimum 4 people
Prices include a light breakfast, lunch and park fees.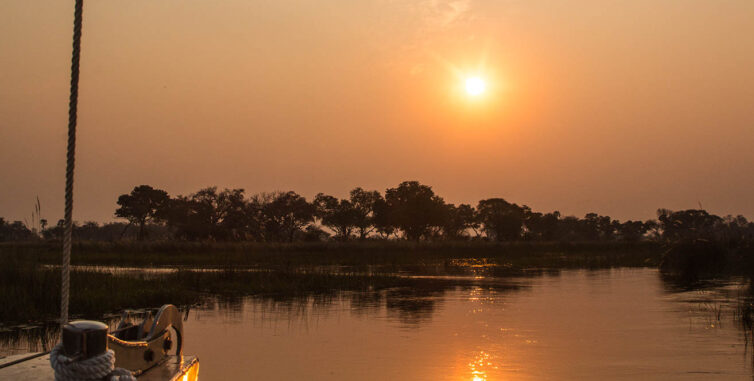 Multi-day Inner Delta Boating Safaris & Trans-Okavango expeditions
Experience the ultimate adventure with Old Bridge Tours & Safaris' Trans Okavango Experience. This safari takes you on a thrilling journey across the Okavango Delta, from the western panhandle to the eastern fringes, offering a truly immersive and authentic safari experience.
More people have climbed Mount Everest than have been on a Trans Okavango adventure, making this a truly unique and exclusive experience. Led by our experienced guides, you'll travel by boat, giving you the chance to experience the Delta's diverse landscapes and ecosystems up close.
Our Trans Okavango Experience takes you off the beaten track and into the heart of the Delta, where you'll have the opportunity to see a wide range of wildlife and explore some of the Delta's most beautiful and remote areas.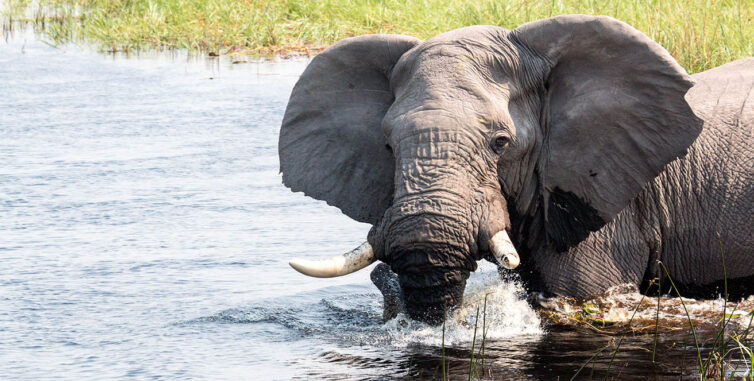 Over the course of the safari, you'll visit a range of different habitats, encountering a variety of wildlife along the way. You'll have the chance to see Elephants, lions, leopards, hippos, crocodiles, and a wide range of antelopes and birds, as well as learning about the Delta's unique flora and fauna from our knowledgeable guides.
Our Trans Okavango Experience is a fully inclusive safari, with all meals, activities, and accommodations provided. We use a range of accommodations on this safari, from comfortable tents and mobile camps to permanent lodges, giving you a varied and authentic safari experience.
At Old Bridge Tours & Safaris, we're committed to responsible tourism and sustainable travel, and our Trans Okavango Experience is designed to have minimal impact on the environment while maximizing the benefits to local communities.
Join the exclusive group of adventurers who have experienced the Trans Okavango and book your safari with Old Bridge Tours & Safaris today.
Plan Your Dream Safari Experience
Are you ready to embark on a journey of a lifetime? Book your dream safari experience with The Old Bridge Tours & Safaris today. Our easy-to-use booking process allows you to select your preferred package, dates, and activities. Contact us today to start planning your African adventure.