Explore the Okavango Delta on a Budget Mokoro Trip
Traditional dug-out canoe or mokoro trips have over the years become a very popular way for travellers to experience the tranquility of the Okavango Delta.
The Old Bridge Tours & Safaris runs all its Mokoro through the "Okavango Kopano Mokoro Community Trust" who control the use of a large area of the delta and who set the guide and community fees for activities. This community traditionally use this part of the delta for fishing, reed cutting and the harvesting of water lily bulbs. The mokoro is an integral part of these activities.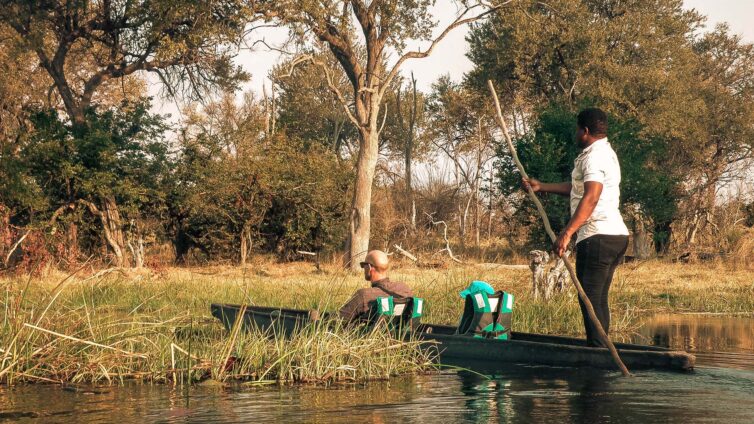 We run trips ranging from one to six days, for groups of anything up to 12 people. We are happy to send out individuals if that is what you would prefer. We offer both self catered and fully catered mokoro trips. For those travelling light you can hire a tent and other necessary items from us.
A motorboat transfer during times of high water (or safari 4×4 during times of low water) of between one and two hours each way will start and end your trip leaving by 8 a.m. and getting you back by 5 p.m.
Your days will be spent with your guide gliding silently down waterways, chilling in camp during the mid-day heat and taking early morning and late afternoon game-viewing walks. Your nights spent camping at the fire-side on islands immersed in the wild sounds of African nights.
You are not obliged to take food for your guides but it would be a nice gesture to share with him, he will be sharing his wonderful garden with you.
"The Old Bridge Tours & Safaris" sends all overnight mokoro trips out with: Mokoro seats, firewood, refuse bags, toilet paper and a spade.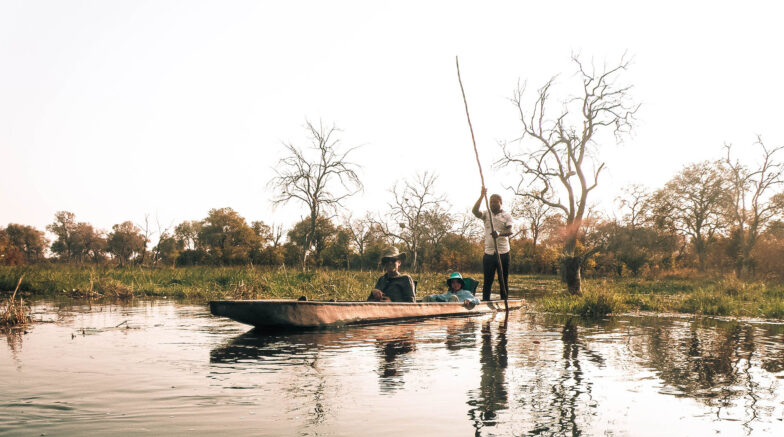 Mokoro Day Trip – P2, 000.00
Per person includes pack lunch to dietary requirements and two 2 liters drinking water pp
Itinerary for a 3 Day Mokoro Trip
Fully catered and equipped Mokoro Safari
If you would like the mokoro trip option with more of a safari feel a catered mokoro Safari is a good option.
In addition to the community guide and polers The Old Bridge Tours and Safaris will send you out with, a chef, all your provisions and equipment and staff needed to set up a comfortable camp on a remote Island. This requires the use of several extra luggage mekoro.
Day 1
Take a 1 and a half – 2 hour safari 4×4 drive from "The Old Bridge" in Maun to a community run mokoro station in the eastern delta. We depart around 8am and arrive at the Mokoro station between 9:30 and 10am.
Here we meet your mokoro guides/polers and load all luggage and equipment into the mekoro.
You then spend 2 to 3 hours on a mokoro gliding along the waterways to your campsite. Once in your riverside campsite lunch is served followed by an hour or two relaxation . Your guide will then take you for a 2 to 3 hour late afternoon game walk.
On arrival back in camp you may request water to be warmed for you to have a shower (bucket shower hoisted into a tree, hanging over a canvass enclosure) and enjoy your campfire dinner.
Spend the evening around the campfire enjoying interaction with your guides and sharing stories.
Day 2
Wake up early, (around 5:30) for coffee/tea cereal and rusks.

Depart on a 4 hour early morning game walk.

Return at around 10am for a hearty brunch.

Relax in camp, or ask your guides to take you for a swim.

Mid afternoon, go for a 3 hour mokoro trip or game walk arriving back in camp at sunset, have a shower and enjoy your campfire dinner.
Day 3
Wake up early for coffee/tea cereal and rusks.

Depart on a 4 hour early morning mokoro and game walk.

Return at around 10am for a hearty brunch.

Relax in camp, or ask your guides to take you for a swim.

Return to mokoro station for pick up at 3pm

Return back to "The Bridge" at 5pm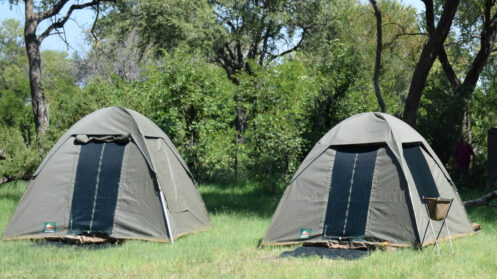 Standard dome tent level Mokoro Safaris.
Standard Dome Tent Level 2 Days P 4, 048.00

Standard Dome Tent Level 3 Days P 6, 072.00

Standard Dome Tent Level 4 Days P 8, 096.00

Additional Days P 1, 760.00

Mokoro Day Trip P 2, 000.00
Prices include 14% VAT, government levy, community day fees and camping fees..
Guests are urged to have travel insurance and medical aid. We ask to be informed of medical aid details in advance
Additional things to bring:
A flashlight.

Sunblock.

Insect repellent.

A hat.

Open shoes & good walking shoes.

Toiletries and other items of a personal nature.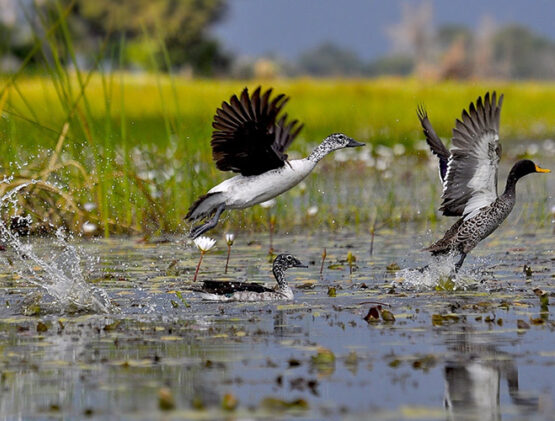 Plan Your Dream Safari Experience
Are you ready to embark on a journey of a lifetime? Book your dream safari experience with The Old Bridge Tours & Safaris today. Our easy-to-use booking process allows you to select your preferred package, dates, and activities. Contact us today to start planning your African adventure.